Prime Minister's speech at the Mass Media Conference 2007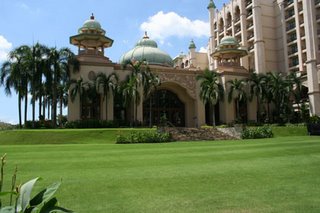 THE following is the speech delivered by Prime Minister Datuk Seri Abdullah Ahmad Badawi when opening the Mass Media Conference 2007 organised by the Internal Security Ministry at the Palace of the Golden Horses in Kuala Lumpur on Thursday.
The conference is being held to allow the audience representing the government, relevant departments and the Internal Security Ministry to listen and gather feedback and views on the role of the media in the government's push for the country's development.
This is important because as a fast growing country and in an effort to become a developed nation, we're facing various challenges that we have never encountered before.
They are triggered by what is happening on the global stage and we are constantly bombarded with news and information that would certainly affect our thinking and attitudes.
And we react to these thinking and attitudes, sometimes according to our perceptions and sometimes because we strongly feel that we should do something.
And for those in the media industry, they may take pen to paper and come up with features and commentaries offering their opinions on what they see and the goingson around them.
Sometimes they feel that their views are so important that they tend to forget about possible repercussions on the country and the people. What we feel about something may lead to comments that may appear to reflect on the feelings of Malaysians.
(But) sometimes they don't take into account the general feelings of Malaysians, their concerns for continued peace and stability, and the value of (racial) harmony in the country.
Sometimes we comment much too freely but this is normal and something that is bound to happen. Nobody can stop it because as human beings, we have instincts and senses that are always responsive to developments in the country and abroad.
As such, media reports in the form of features, political and economic analyses, as well as those which are supposedly human interest stories, have an influence on the climate in the country.
And those who read newspapers, watch television and surf the internet and other source of news, will perceive this as the media world today. This is the situation now and the influence of the media is being felt by the people.
For both the government and the people, all these are relevant especially when the issues need to be tackled.
In this case, leaders have to use their judgement in deciding when to respond, when do you allow it and how people react.
If the issue is prolonged, it may spread like wildfire, and we may not be able to contain it. It's not easy to tame a raging wildfire.
Leaders must be prepared for this. This applies to not only political leaders but also media practitioners including group editors and media owners who may react to issues in certain ways, giving out certain instructions like play up this one, forget about this. They too have their respective roles.
In this respect, the media practitioners need to have guidelines on what is to appear of the frontpage of their newspapers, or whether a story should be downplayed or given prominence.
This requires understanding from reporters, editors, editorinchief and newspaper owners especially when a news story involves certain people or a particular race.
And we in the government, particularly the Internal Security Ministry, Abdul Aziz (Tan Sri Abdul Aziz Mohd Yusof, the ministry's SecretaryGeneral) call for the media's understanding on sensitive issues involving the races, while realising that it is sometimes difficult to get the cooperation as they have their own stand on certain issues.
At times, the government has to decide whether to reply or just leave the issues published by the media.
Overall, the Malaysian media has been responsible and sensitive in preserving the racial unity towards realising the objective of transforming Malaysia into a nation of excellence, glory and distinction.
Our media has found itself in the midst of the country grappling with numerous challenges coming from every angle and all sorts of people not only from within the country but also at the international arena.
Surely you are wondering what is next from the government, especially what are Pak Lah's or Internal Security Ministry's reactions. I believe this is what is lingering in your mind. Many people are now saying that Pak Lah appears to be quite tolerant at times, (so they say) let's try and see what is his tolerance level.
We also need to understand that the Malaysian people of today are different from those who lived in the preindependence era or when the country had just gained independence.
Many Malaysians now were born and grew up in postindependence Malaysia.
And the same goes to the media, some of which, especially the mainstream media, had played a role in the days when we just achieved independence. They too had gone through many events and happenings that have now become part of our country's history which we cherish.
Nowadays, many media practitioners are from the postMerdeka generation. I am not saying that the veterans are no longer around. Many of them are in front of me now.
They are from the era of Pak Samad Ismail, Pak Melan. Datuk Zam (Datuk Seri Zainuddin Maidin, Information Minister) is smiling.
I have said to Datuk Zam, we are not that young now. We started out very early. You (Datuk Zam) started very early in the media world, I started very early in the government. We went through the same period of changes and challenges.
You are wellversed about the media and I am wellversed about the government. And I am also knowledgeable about the media while you are knowledgeable about goingson in the government.
But the youths of today, including the many bloggers, are finding themselves at the time when the country, as I mentioned earlier, is facing all kinds of challenges in its bid to become progressive and churn out credible citizens.
The challenges faced by the government of today are different from those that had to be tackled by Tunku Abdul Rahman (first prime minister) and subsequent prime ministers Tun Razak (Hussein), Tun Hussein (Onn), Tun Dr Mahathir (Mohamad), and me.
And the challenges will continue to evolve and we have to deal with them all.
Goingson in the country and what is coming from outside, couple that with a great communication revolution, shifts in the world of publishing, new influences and aspirations, point to the fact that we have matured (as a nation).
When we achieve so much progress, that means we have matured. And when decadence sets in, that means we are getting old and senile.
In terms of the evolution of nations, they will become developed and achieve success and glory. And this is likely to be followed by decadence and destruction. And school children may read about ancient history that would enligthen them about the rise and fall of nations.
I have not given a complete account of what had transpired in the past.
But for those in the know, surely many things will cross their mind about what happened in the past.
(They will ask) What is Pak Lah saying, did we go through the same process or not…(are there differences between) the old days and now.
But we need to play our role, and in doing so, we should learn lessons from history as history is very important.
Even if our history is marked with terrible incidents, we can still learn from it. I always believe that we can draw the best of lessons from the most bitter of incidents.
Whoever can learn from the past will sail through life with maturity and wisdom while those who are unable to do so shall die.
Those who forget history will one day lose their identity as they do not bother to build their personality and protect themselves from being adversely influenced by pressure and challenges.
They do not care about their roots and place little importance to their language and culture of origin.
We do not know these people anymore as they no longer possess the characteristics of what is called the culture and fine traditions of a race.
People who forget history lose their cultural identity as they allow themselves to drift aimlessly in the currents of self and national conflict.
Those who forget history also become materialistic, selfcentred and do not care about what happens to others as long as they are safe.
When this happens, there will not be any effort to progress.
As I have said before, we need to preserve our history and build our civilisation. It means that we must always be aware of what is happening around us, and hold on to our convictions and values.
And this history of ours will shape our civilisation.
I am grateful for the achievements which we have witnessed so far. This is what I have been trying to convey to you.
I have prepared a thick speech more than 40 paragraphs (for this ceremony) … (but) I have decided that I should say what I want to say…my thoughts as a person who is destined to lead the nation.
I am here not by force but I choose to be with you because we complement each other.
We should not forget history, (as) it has shown that the media has contributed immensely since the days we were struggling for independence. The media has also played its part when we were grappling with communist insurgency and confrontation with Indonesia.
Tumultuous periods in our history such as the May 13 episode, turmoils in the administration and government as well as in Umno, MCA, MIC, all these have left an indelible mark on the country's political landscape and the people.
And as we join our hands in shaping the future, we cannot escape the fact that media practitioners must be responsive. Otherwise, there will be greater calamity in the country which may not be resolved other than through cooperation based on understanding.
We want to see continued stability and unity, respect for the Rukun Negara, we want to uphold our constitution and our law. We need to care for this nation of ours which practises parliamentary democracy.
For humans, freedom is priceless. But what is the meaning of freedom when in the effort to uphold human rights, an individual would only think about himself and his group, forgetting that others too would like to see their rights respected.
So we should be mindful of all these things.
The value of the freedom to think and act is truly immense. But freedom is not a licence to live aimlessly. And freedom has its limitations. There is no absolute freedom to do whatever we like.
We are a nation aiming for progress and success. We have our respective roles to play. We should always be mindful of that, so be careful. It's also important to consult one another as this is encouraged under the democratic system.
I hope the media will understand all these things just like how I have to understand them as we move together towards a progressive and successful nation. Let's create history. Let's move forward in a civilised manner.
Thank you. – Bernama