Sarawak is the largest Malaysian state is endowed with the world's richest and most diverse ecosystem.
Kuching is the capital city and the main gateway to Sarawak is via Malaysia Airlines, AirAsia, Malindo Air, SilkAir and Maswings, which make regular flights from Kuala Lumpur, Singapore, Brunei and Pontianak in Indonesia.
A former British colony, Sarawak gained independence in 1963 and has since prospered into a vibrant city with an interesting skyline comprising a mixture of colonial influence and modern architecture.
Sarawak is a land of colourful cultures boasting 27 ethnic groups, 45 languages and dialects. The main groups are the Iban, Malay, Bidayuh, Chinese, Melanau, Oranga Ulu and Penan.
Situated in Malaysian Borneo, Sarawak is the largest state in the country. Its colourful history under the rule of the White Rajahs, rich tapestry of cultures and superb natural attractions make it a mesmerising holiday destination. Many heritage buildings in Kuching, the capital city, reflect its rich past. An eco-adventure land, Sarawak is great for trekking, caving, mountain climbing, kayaking, biking, rafting and diving.
The state has a wide range of accommodation to suit all budgets and preferences. There are international-standard beach resorts, jungle resorts, star-reted hotels as well as longhouse-style resorts. Budget accommodation is widely avaiable. Take your pick from the variety of cuisine, from local delicacies to Continental fare.
Places of Interest
Kuching Waterfront This 900m long esplanade, with landscaped surroundings and eateries, is a popular place for locals and foreigners alike. Places of interest here are The Square Tower, Sarwak Steamship Building and Chinese History Museum. A nearby attraction is the ornate Tua Pek Kong Temple, reputed to be the oldest in the city.
Main Bazaar This is the oldest street in the city. The shophouse here enjoy immense popularity for the bewildering variety of items, from ethnic crafts, textiles to bamboo mats and pottery. Take home exquisite souvenirs of your visit!
Sarawak Museum Sarawak Museum is hailed as one of the finest in Southeast Asia. The old Wing, designed in the style of a Normandy town house, houses an exceptional ethnographic collection. Within the grounds are an Aquarium, Botanical Gardens and Heroes' Memorial.
Sarawak Cultural Village An award-winning attraction, Sarawak Cultural Village showcases the diverse lifestyles of the state's ethnic groups. Visit the authentic dwellings and view their crafts, household items and musical instruments. The lively cultural performance is a major highlight here. Sarawak Cultural Village is the venue of the annual Rainforest World Music Festival.
More information about Sarawak cultural village
Semenggoh wildlife Centre Enjoy the amazing experience of standing close to orang utans in their natural habitat. Watch them swing gracefully as they make their way here during the feeding times. Other attractions include an arboretum, fernery, botanical garden and fruit orchard. Matang Wildlife Centre provides the opportunity to view animals in enclosures.
Cat Museum Welcome to a world dedicated to cats! Touted to be the world's first, the Cat Museum pays tribute to these adorable felines with a range of exhibits, photos, statues and souvenirs. Kucing means 'cat' in Malay.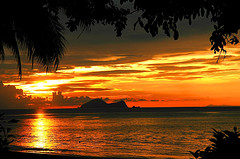 Damai Beach Damai Beach is a major vacation spot, with some of the state's best beach resorts. Enjoy a wide range of water sports activities at the resorts. Tours can be arranged to see the rare irrawaddy dolphin. Other popular beaches include Siar, Sematan, Penyok, Bandung in Kuching as well as Luak Bay and Hawaii Beach in Miri. The National Parks of Bako, Similajau and Tanjung Datu also boast beautiful beaches.
Textiles and Crafts Take a mesmerising journey to explore Sarawak's textiles and crafts. The Textile Museum and Pua Kumbu Museum are themed attractions showcasing Sarawak's handwoven fabrics. More textiles and other handicrafts can be seen at Sarakraf Pavillion and Sarawak Handicraft Centre.
Sunday Market in Satok Browse through a profusion of goods from handicrafts, flowers, local snacks to traditional delicacies. The bustling atmosphere and colourful cornucopia of things makes a trip here enjoyable.
Bako National Park Sarawak has many national parks, each teeming with a wealth of flora and fauna. Bako National Park is the state's oldest, and home to the rare long-nosed proboscis monkeys, long-tailed macaques and various other animals. It serves as an excellent introduction to the rainforest.
Kubah National Park The world's largest collection of palm trees, rare ferns and wild orchids are the main attractions here. The enclave is further enriched with waterfalls and crystal-clear rivers. It is a favourite location for day trips.
More travel inforamtion click here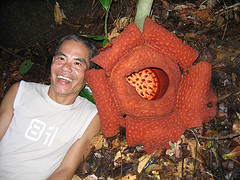 Gunung Gading National Park Beautiful cascading waterfalls, rare foliage and a chance to see Rafflesia, the world's largest flower, are the highlights here.
Mulu National Park This UNESCO World Heritage Site offers spectacular attractions. Gunung Mulu has the world's largest cave chamber and the world's most extensive cave system with razor sharp limestone pinnacles.
More travel inforamtion click here
Tanjung Datu National Park Breathtaking vistas of rolling hills and waters teeming with corals are remarkable attractions here. Adventurous visitors can head to the nearby Telok Melano village for a delightful homestay experience.
Niah National Park Experience the awe of standing at the archaeological site of 40,000 year-old human remains in this park.
Similajau National Park A bird-watchers' paradise, enthusiasts can see some 185 species of birds and 24 species of mammals. Lucky visitors may spot dolphins and turtles in the sea.
Lambir Hills Nationl Park the park is home to an incredible diversity of plants, trees and insects, some that are yet to be identified.
Loagan Bunut National Park A natural marvel here is its large natural lake that is said to dry up and disappear during dry seasons. The Taland and Satang island National Parks are turtle sanctuaries while Batang Ai National Park offers more jungle adventure.
Longhouse Visits Go on a river safari to visit the indigenous communities who live in longhouses along the Lemanak, Rejang, Skrang and Batang Ai Rivers. Watch how crafts are made or join in the cultural dances.
Golfing Enjoy a round of golf in a pristine rainforest setting. Major golf resorts in Sarawak are situated in Kuching, Damai, Padawan, Miri, Sibu and Bintulu.
Diving Diving enthuslasts should not miss a trip to miri, to explore one of the richest reefs in Malaysia. Belais Reef and Luconia Shoals are among the popular dive sites in the South China Sea.
Bario Lying at an elevation of 1,000m, Bario in Kelabit Highlands is home to the Kelabit People, touted to be among Borneo's best farmers. Visitors will be awed by their culture and lifestyle.
Getting There
Kuching International Airport is the main entry point into the state. Sarawak is easily accessible by frequent short-haul flights from the Kuala Lumpur international Airport (KLIA) in Peninsular Malaysia. Visitors can also fly in from the Kota Kinabalu International Airport in Sabah as well as other major cities in Malaysia.